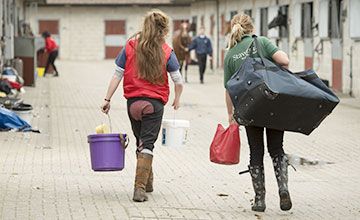 New rates for stable staff in Ireland will be brought in from January 1
  PICTURE: Edward Whitaker (racingpost.com/photos)  
 By Brian Sheerin 1:53PM 14 DEC 2016 
THE Irish Stable Staff Association has expressed its satisfaction after finally agreeing a pay increase for stable staff with the Irish Racehorse Trainers Association.
In a long drawn-out affair, ISSA initially sought a pay increase of a minimum pay rate of  €11.40 per hour from €9.75, but have settled for a rise to €10.75. The new rate will be brought in from January 1 until May 1, 2019.
Expenses for a day meeting will also increase to €50 from €40, while those for an evening fixture will rise to €60 from €50.
The agreement does not prevent a trainer from paying more favourable terms and conditions at a local level which many trainers have in place already. However, this agreement prohibits any trainer licensed by the Turf Club in Ireland from paying less favourable terms.
ISSA chairman Bernard Caldwell said: "After much negotiation, we have reached an agreement that our members are happy to accept.
"Pay and conditions needed to improve and this was understood by all parties. Our members are often described, and rightly so, as the backbone of the industry, but that needed to be recognised in real terms, which has now happened."
Caldwell had previously expressed growing concerns that the voice of Irish stable staff was not being heard by trainers.
'Keeping the show on the road'
However, IRTA chief executive Michael Grassick believes the new pay increase expresses the value that trainers hold their staff in.
He said: "Our members represent a broad community in racing and have to work hard to stay in business in what are still challenging times.
"The stable staff provide a vital service and keep the show on the road, so we are very pleased to have arrived at a workable solution."
Let's block ads! (Why?)
Horse Racing News | Racing Post