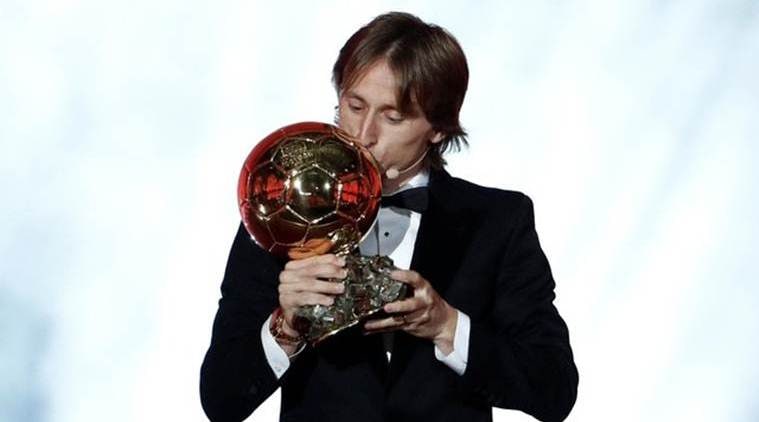 Real Madrid and Croatia midfielder Luka Modric won the Ballon d'Or 2018 in Paris on Monday to break the Cristiano Ronaldo-Lionel Messi winning spree that has dominated the award for the last decade.
With Barcelona forward and five-time champion Messi not even in the top three, the Real Madrid midfielder Modric overtook former teammate Ronaldo and Antoine Griezmann to win the award for the first time. Messi netted 49 goals for club and country, leading his side to win the La Liga title but a poor World Cup show with Argentina deprived him of the prestigious award this year.
Modric won the Champions League with Real Madrid for the third successive year and guided underdogs Croatia to the final of the World Cup this year. The 33-year old Croatian was awarded the FIFA's World Cup 2018 MVP, UEFA's Player of the Year 2018, Best FIFA Footballer of the Year and the number one player by International Federation of Football History and Statistics.
Runners-up Ronaldo, who is now at Juventus, was key to Real Madrid when they retained the Champions League title for the third year in row. Griezmann, on the other hand, helped his country France to win the World Cup during the summer after claiming the Europa League and the Uefa Super Cup titles with Atletico Madrid.
Meanwhile, Kylian Mbappe, who helped France in winning the World Cup, was awarded the Kopa award for the best young player, overtaking national teammates Raphael Varane and Antoine Griezmann.
Modric was joined in Paris by his team delegation, led by Florentino Perez and his team captain Sergio Ramos. Juventus striker Cristiano Ronaldo, however, gave the ceremony a miss.
Also, Norwegian forward Ada Hegerberg won the inaugural women's Ballon d'Or.