Written by Mihir Vasavda
| Srinagar |

Published: November 6, 2018 5:07:56 am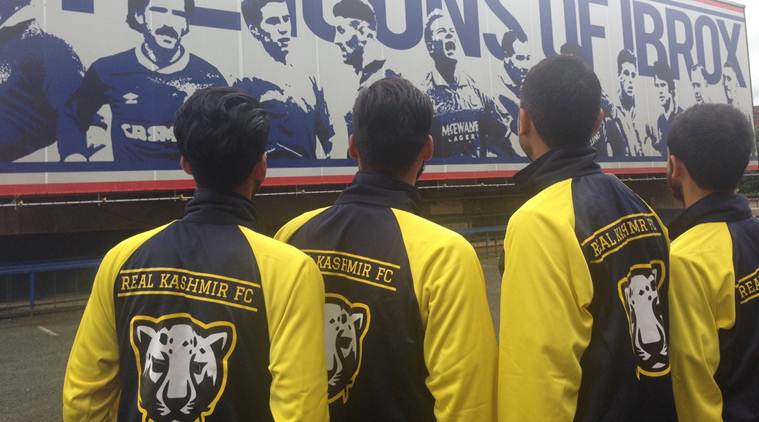 Kashmir have shown they aren't intimidated by reputation. (Source: Real Kashmir FC Twitter)
Till 2014, Muhammad Hammad dreamt of being a cricketer. A middle-order batsman, he was among the best youth prospects in Jammu and Kashmir. So good, in fact, that it was almost a given that the then 17-year-old would make the cut for the state's CK Nayudu squad in 2014. Hammad impressed even at the selection trials, a two-day match at the Sher-i-Kashmir Stadium here, where he scored a brisk 72, just two short of the match's highest scorer.
A few days later, he returned to the stadium to check if he'd made the cut. "The floods occurred just a day after the selection trials, so I went home to check if everything was ok. When I returned to see if my name was on the list, I found out that the team had already left for the tournament," Hammad says. Since that day, he's not touched his cricket kit. "There's a lot of politics in that sport. My dream was shattered."
READ | Abdul Majeed Kakroo: The story of football in the Valley
HOT DEALS
In an attempt to move on, Hammad turned to football. He was playing with his friends at a ground near his house in Batamaloo, when former India captain Abdul Majeed Kakroo spotted him. Hammad was 18 back then. Today, he finds himself playing in the highest division of Indian football.
In a way, Hammad's ascent mirrors Real Kashmir's. They, too, were launched in 2014. And on Tuesday, they will make their home debut against former champions Churchill Brothers at the TRC Ground. So much has been made about the occasion — this is the first I-League match to be played in Kashmir — that the footballing bit has gone completely under the radar.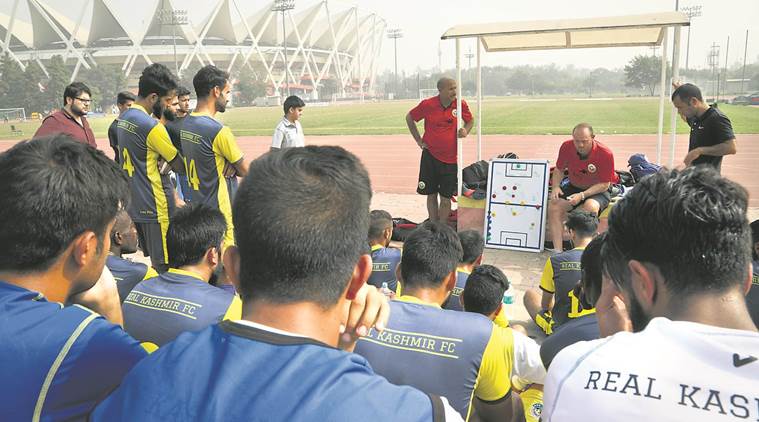 Real Kashmir team with coach David Robertson at a practice match in New Delhi over the weekend. (Source: Express Photo by Abhinav Saha/File)
David Robertson, Kashmir's Scottish coach, understands the enormity of Tuesday's game, but insists the players are focused on the match. "It's going to be another day of creating history…we are excited but focused," he said.
It'll be a tad unfair to call Real Kashmir a bunch of rag-tag players, but they're banking on the unknown quantities like Hammad to catch the opponents by surprise. It was their trump card all through the second division last season, and the factor came saw them beat defending champions Minerva in their own backyard last week.
The victory wasn't convincing, though. The first half was pedestrian by both teams and although Kashmir were slightly better in the second period, Robertson will hope the gulf in quality between his side and the rest will not start to show as the season progresses.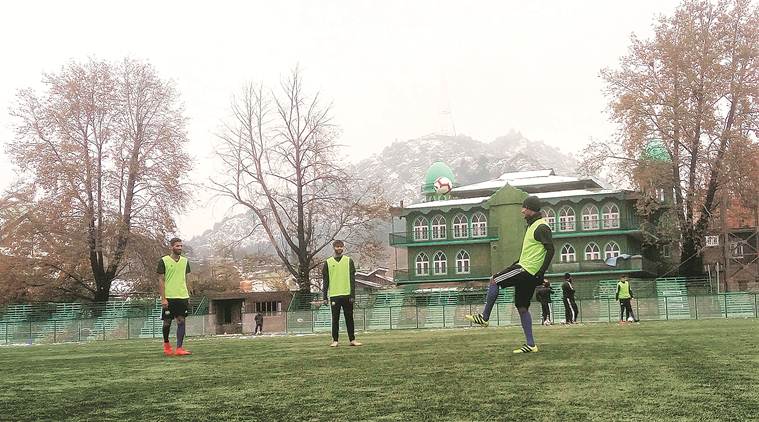 Real Kashmir footballers train at the TRC Turf Ground in Srinagar Sunday. They face Churchill Brothers Tuesday. (Photo: Mihir Vasavda)
From Churchill's point of view, it's not just the anonymity of Kashmir players that's a concern. The weather, too, adds an element of uncertainty. On Sunday, some Churchill players stood shivering in the centre circle, listening to their Romanian coach Petre Gigiu's instructions. Most of them hadn't seen snow before, let alone training on it. "The conditions are difficult. We don't know a lot about the team or the weather. But it's going to be fun," Gigiu said.
Churchill are one of the title contenders this season and on paper, have a squad that's more talented and experienced than Kashmir's. But Kashmir have shown they aren't intimidated by reputation. For them, the fairytale has just started. And in front of a packed ground, they'd hope their juggernaut rolls on.
For all the latest Sports News, download Indian Express App